#VellaSays – Tea Tree Oil for Acne?
Acne is such a pain! I use to endure it as a teenager and still years later from time to time get a pimple that I have to zap!! On some occasions when I want to spot treat I turn to the good ole natural remedy of Tea Tree Oil.
Tea Tree Oil isn't a new ingredient on the scene. It's a natural antioxidant and anti-inflammatory that's been around forever! If you're looking for a home remedy for acne, a 5 percent solution of tea tree oil works magically!
Tea tree oil is applied to the skin (used topically) for infections such as acne, fungal infections of the nail (onychomycosis), lice, scabies, athlete's foot (tinea
pedis), and ringworm. It is also used topically as a local antiseptic for cuts and abrasions, for burns, insect bites and stings, boils, vaginal infections, recurrent herpes labialis, toothache, infections of the mouth and nose, sore throat, and for ear infections such as otitis media and otitis externa.
Too Much info??? I KNOW!! But I wanted to give you the real scoop on all the benefits of this fab oil!
I use a Q-Tip and saturate it with the tea tree oil and apply it directly onto a blemish, acne scar, or problem area to clear up blackheads and mattify my oily
areas. I also use the tea tree oil cleansing facial pads after a workout! No matter what your current skin regimen is, you can add this in and see amazing results.
A word of caution to those who may attempt overuse, it can be applied 2-3 times a day but be careful to not over do it: while gentler than benzoyl peroxide, tea tree oil can dry out your skin, triggering your body to overproduce its own oils and make your acne worse. If you apply it to your face, stay out of the sun—tea tree oil can make you more sensitive to UV rays.
Here is my #VELLAAPPROVED go too Tea Tree Oil: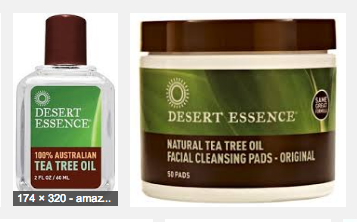 DESERT ESSENCE TEA TREE OIL –> CLICK HERE
Tea Tree Oil is a proven way to combat acne! So here I am, years later and I've still got this cult product in my beauty drawer. Why? Because it works. Because it was the first thing I ever used for a blemish. And it smells so. darn. good.
Share your thoughts and stories with me below!
Until next week….Keep Smiling!!